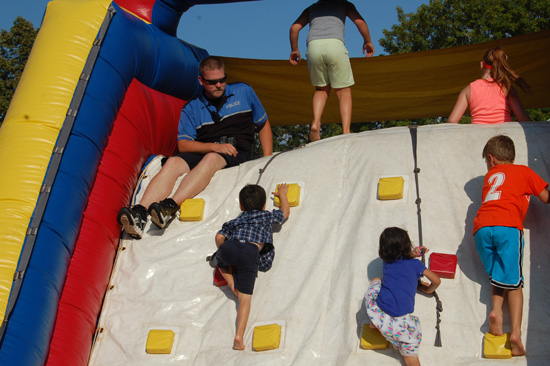 Twin Lakes turned out to celebrate National Night Out Tuesday evening at St. John's Catholic Church.
Communities throughout the nation celebrate National Night Out on the same day in August each year. The event seeks to promote cooperation between the community and its Public Safety Officers, in an effort to draw attention to crime and fire prevention and promote a unified effort to eliminate crime problems and fire safety.
In Twin Lakes, those attending could visit with police officers and firefighters as well as several other businesses and organizations. Three local pizza restaurants offered free food and a contest was held to see which pizza those attending liked best. A variety of firefighting and police equipment was on display and there were bounce houses for the kids to enjoy. Represented were the Twin Lakes Police Department, Twin Lakes Fire Department, Twin Lakes Rescue Squad, Randal Fire Department and Kenosha County Sheriff's Department Bomb Squad and K9 unit.
A big feature of the night were the demonstrations of various police and firefighting skills.
Here's video of a race up the 75-foot ladders of the Twin Lakes Fire Department and Randall Fire Department:
Here's video of the always popular Taser demonstration:
Here's video of Twin Lakes firefighters demonstrating the tools they use to free people trapped in vehicles. In less than five minutes they get the roof of this vehicle rolled back like an old-style sardine can:
Here's some more photos from the event: