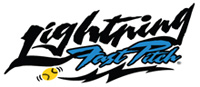 Wisconsin Lightning Black won this morning by a score of 1-0 in 8 innings against Team Oak Stars (Kankakee, IL) at the ASA "A" National Championships at Moyer Field in Salem, VA.
Kristen Wood (Wilmot) pitched the 1 hit (single) gem shutout with 15 strikeouts and only 3 walks. The Lightning tallied the only run they needed in the top of the 8th during international tiebreaker with a sacrifice bunt by Taylor Bergles (Westosha Central) to move Britt Blazich (Westosha Central) to 3rd. From there Sarah Fonk (Westosha Central) hit a fielders choice grounder to 3rd that plated the speedy Blazich with would turn out to be the winning run.
Lightning now moves on in the losers bracket to face the Lake County Liberty (IL) at 3 pm est this afternoon.