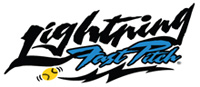 Wisconsin Lightning 18u Black was eliminated at the ASA "A' National Championships Friday afternoon by a score of 5-2 by Lake County Liberty (IL) at Moyer Fields in Salem, VA.
The Lightning dug a hole with giving up 3 unearned runs in the first inning. Down 5-0 going into the 5th the Lightning battled back to get a pair with a Taylor Bergles (Westosha Central) two out single, a Sarah Fonk (Westosha Central) RBI double, and a Sara Terrian (Waterford) RBI single plating Fonk that ended the lightning scoring. Fonk went the distance allowing only 2 earned runs on 8 hits. She had 5 strikeouts with 1 walk.
The WI Lightning had a successful 2013 season representing Kenosha County and Southeastern Wisconsin at the highest level. The competitors and colleges,/high schools they will be attending in the fall are: Kristen Wood (Northwestern), Sarah Fonk (Wisconsin), Kelsey Saucerman (UW-Oshkosh), Brittney Blazich (Wisconsin Lutheran), Makenzie Walker (Lamar), Sara Terrian (Marion), Alicia Barbian (Wisconsin Lutheran), Stephanie Parks (McHenry County College), Elena Koncar (Concirdia-St Paul), Rachel Heffel (UW-Eau Claire) and senior high school students to be at Westosha Central Larkin Langston and Taylor Bergles. The coaches were Steve Spahn and Staci Roscizewski (former Racine Case standout now currently playing at Wisconsin) and Scott Hermes  was the manager.