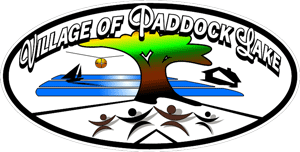 Results of a survey of village residents by the Paddock Lake village government have been tabulated and released.
The survey touched on a wide range of topics from how residents felt about various village services to how they felt about their local taxes.
A survey was mailed to every sewer customer, 1,326 in all. Some 326 responses were received, for about a 26 percent return rate. Village President Terry Burns said a return rate of about 10 percent is typical
"Needless to say, I am impressed with our residents and their acknowledgment in having the ability to voice their opinions on important issues concerning village services," Burns said. "Surveys such as this help us to develop future projects and services to aid in increasing the quality of life in the village of Paddock Lake for our residents."
Two questions from the survey that will effect some short-term action by the village concerned the Time-Warner provided cable access channel and establishing Neighborhood Watch.
The survey asked if the village should invest in new equipment to keep the access channel active. Some 64.8 percent of the respondents did not want that investment made, so it is unlikely to happen, Burns said. However, the village may pursue streaming and then archiving village meetings via its website.
The survey also showed that 72.8 percent of respondents indicated the village should form a Neighborhood Watch Program.
"This will be a focus in future meetings," Burns said. "In the meantime, residents interested in assisting in formation of this program can contact the Village Hall with their contact information. They will then be notified of future meetings where this will be a topic of discussion.
Some other sample results include:
83.1 percent felt positive about their overall feeling of safety in the village.
72.9 percent felt positive about Paddock Lake provided services.
75.3 percent felt positive about the quality of life in Paddock Lake.
38.5 percent felt positive about the value they receive for village taxes.
Preserving village history, at 60.4 percent positive, scored much higher than investing in holiday street decoration, at 39 percent positive.
An executive summary and the entire survey results can be viewed here.