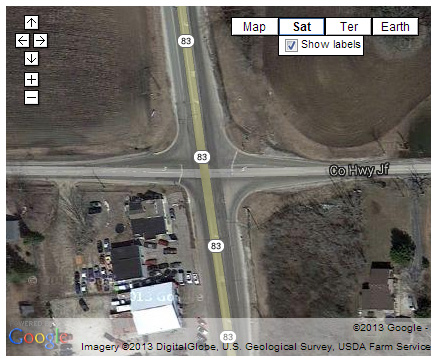 The Wisconsin Department of Transportation will be making a few changes to the intersection of Highways 83 and JF in Salem after a local resident brought dangers of the intersection to the attention of WisDOT officials.
But West Jacobs, the resident who lives just a little to the west of the intersection, said he feels the changes are not enough to address what he sees as the dangers.
"It's an intersection that has problems," Jacobs said. "It's volatile."
Jacobs sees several problems with the intersection. There's a dip in JF west of the intersection. Sight lines for traffic on the west side of the intersection are such that traffic has to creep out to see if it is clear, especially looking south. Though the markings on Highway JF indicate a left turn only lane and an adjacent shared lane for straight and right turns, motorists often go three abreast. Lastly traffic from northbound Highway 83 turning left has a tendency to turn into the JF left turn lane
After two serious crashes within a short span this year at the intersection, Jacobs began contacting state officials. Last week he received a reply from Dan Dedrick, safety and regulations engineer for WisDOT, that said traffic stats don't warrant major changes but WisDOT will make a few changes:
The increase in crashes recently and the traffic volumes are not significant enough to warrant major changes to the intersection such as a four-way stop, traffic signal or roundabout. After reading the police reports, I have determined that the majority of crashes are caused by drivers stopping on county highway JF, then proceeding through the intersection and being struck by traffic on WIS 83. The distance to see approaching vehicles on WIS 83 is not an issue. Since this is a larger rural intersection, I believe that some drivers on county highway JF may mistakenly think that traffic on WIS 83 also has to stop. The vegetation blocking a stop sign and some route marker signs on county highway JF will be removed. Also, stops signs will placed on both sides of the approaches and signs that read TRAFFIC ON WIS 83 DOES NOT STOP will be added below the stop signs. We will continue to monitor the crashes after the improvements have been completed.
Jacobs is no stranger to safety concerns. He spent 25 years in the US Air Force working in parachuting activities and aircraft maintenance. He concedes that some changes are better than nothing but he is not satisfied with the response and he is contemplating his next move.
"Just another set of stop signs up there is ludicrous," Jacobs said.
The following video shows the sight lines at the intersection from the west side of Highway JF: