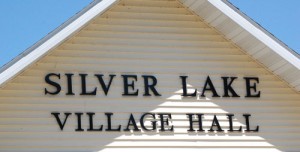 Silver Lake Trustee Soti Wilber said she will suggest the village pursue Connect Communities status with the Wisconsin Economic Development Corporation after a meeting with a state downtown development expert Tuesday.
The meeting was a Committee of the Whole meeting arranged by Wilber with James Engle, Downtown Development Team Lead Economic & Community Development at Village Hall Thursday afternoon. Village President Sue Gerber and Trustees Michael Decker, Cyndy Schwebke, Paul Snellen and Wilber attended.
Engle described two programs  his office oversees to board members and a small audience.
Engle said he felt the Main Street Program, which spurs development downtown through the use of a paid manager, was not right for Silver Lake since there is little current business downtown and the program requires a locally funded budget of at least $40,000 and hiring of the paid manager.
But he did think the relatively new Connect Communities program might be a good fit. The village would have to apply to be designated a program participant. Typically about 20 communities are so designated each year. Last year, the program's first, 28 communities applied.
Inclusion in the program would connect Silver Lake with other communities with similar challenges and goals regarding downtown development and allow them to exchange ideas and successes. It would also give Silver Lake access to the following:
A ListServ/network group to get new ideas from staff and other participating Connect Communities.
Participation in one Main Street Executive Director Workshop each year with a focus on a downtown revitalization topic.
An on-site visit from one of WEDC's community development staff to assist in identifying needs and offering assistance.
An online open house to get your questions answered by experts.
Training for your downtown director or board president.
Roundtable discussion groups on pertinent topics held once every year.
Possible opportunities to link college/university student projects to your downtown/urban commercial district needs.
Roundtable discussion groups on pertinent topics held once every year.
Access to WEDC's downtown development library.
Access to resources and training materials that have been developed for Wisconsin Main Street communities.
Invitation to the annual Main Street Awards Program, plus eligibility to nominate a project for a Connect Communities award.
Webinars/regional training.
According to the WEDC website, requirements for participating in the Connect Communities  program include: A participating community must have an organization that focuses on downtown/urban commercial district issues, have access to a computer with required software, can commit to a majority of training opportunities, and fulfill bi-annual reporting requirements. Communities will be required to sign a participation agreement with WEDC and pay an annual fee of $200.
Reagrdless of whether it is taken into the Connect Communities program, Engle advised that Silver Lake take small steps on the way to its larger goal of revitalizing the downtown.
"I think in any situation like this ," Engle said "it might be looking like a mountain that can't be climbed. You have to start small."
The meeting was scheduled to include a walking tour of downtown, but that was washed out by rain.
After the meeting, Wilber said she will definitely recommend seeking the admission to the Connect Communities program.
"I am hopeful," she said.