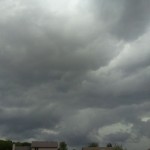 The chance of our are seeing a thunderstorm tonight has increased the latest National Weather Service forecast now says.
There's an 80 percent chance of a thunderstorm for our area tonight before 1 a.m. (as of 10:27 p.m.).
Radar shows a pretty good size storm making its way along the state line, with severe thunderstorm warnings currently in effect in the Rockford and Janesville areas.