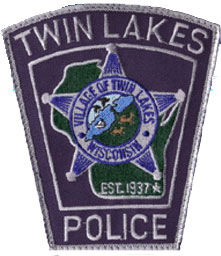 A 27-year-old man from Kenosha died today after  he jumped from a boat that was taking on water on Lake Mary in Twin Lakes.
From a statement released by Twin Lakes Police Chief Dale Racer:
On Saturday, July 20, 2013 at 4:25 p.m., Twin Lakes Police Water Patrol officers observed several people on the north side of Lake Mary in the water and in distress yelling for help. As the officers approached the group of people it was learned that the group had jump from a boat that was taking on water. Officers observed a ten year old and a seven year old frantically attempting to stay above the surface of the water. Both officers were able to grab both children and pull them to safety onto the police boat. A 37 year old adult female was also pulled to safety from the water by officers. The rescued adult female had told the officers that a 27 year old male had also jumped into the water from their boat but had not surfaced or been seen. One of the officers dove into the water in the general area where the male was last seen but could not locate the subject. Within minutes a swimmer in the general area observed the male under the surface of the water, at which time an officer and the swimmer dove under the surface, retrieved the body and brought him to shore. Once on shore, CPR was performed and the male was transported to Aurora Burlington Hospital by Twin Lakes EMS. Once at the hospital the 27 year old from Kenosha was pronounced dead. The Twin Lakes Police Department along with the Department of Natural Resources (DNR) are continuing their investigation into this incident.