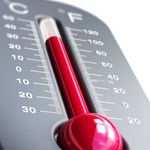 The current National Weather Service heat advisory is still set to expire at 7 p.m. today.
About that time, a 50 percent chance of scattered thunderstorms enters the forecast. Some strong may include strong winds.
The moderation of temperatures begins Saturday, with a forecast high of 84 degrees. The forecast high temperature for Sunday is a downright chilly 77.