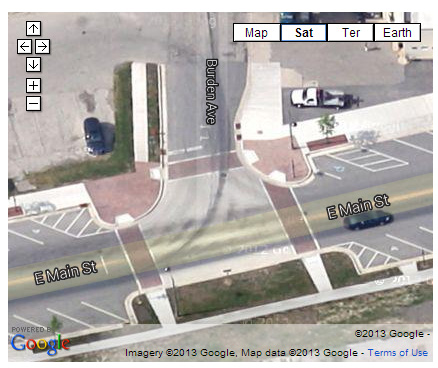 The Twin Lakes Village Board will explore some temporary options to see if the line of sight can be improved for traffic on Burden Avenue at the Main Street intersection.
First, will be to temporarily block off some of the parking east of the intersection on Main to see if it is an improvement. If the situation is judged to be better, the village could then make those changes permanent.
The prospect of making the intersection a three-way stop was raised earlier this month by Police Chief Dale Racer in order to address two safety concerns.
First is what Racer described in a memo as the difficulty of seeing westbound traffic on Main from Burden due to angle parking on Main, especially when a driver wishes to make a left turn onto Main.
Racer said citizens  as well as village police officers have approached him about the visibility problem. At Monday's Village Board meeting Racer said there have been two crashes at the intersection recently and some other near misses.
The other concern is an anticipated increased number of senior citizens crossing Main at Burden after the Residences on Main project is completed.
Village Board member at Monday's meeting seemed reluctant to place a stop sign on Main if other workable alternatives could be found.
"I've had a lot of people yelling at me about the other stop sign," Trustee Tom Connolly said about a four-way stop sign the village placed at Lance Drive and Pauley Avenue at the completion of the downtown street rehabilitation.
The board set no timeframe for revisiting the issue, but did authorize the temporary elimination of some of the parking on Main nearest to Burden as a test.