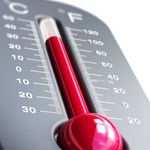 If you've been out at all today, you may have already guessed that the National Weather Service's heat advisory is still in effect through Friday at 7 p.m.
Today's high temp will top 90 (94 currently at Kenosha Regional Airport) and expect the same for Friday.
The heat is expected to finally break Friday when a cold front is expected to sweep across the region. Thunderstorms are likely in the afternoon and possible in the evening as well.
Here are some tips for dealing with the heat — including a list of official cooling centers — from the county Division of Health.