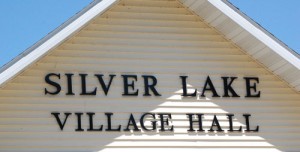 The Silver Lake Village Board will again consider extending its contract with Silver Lake Rescue Squad Inc. and its recently received bids for paramedic service at its meeting Wednesday night.
In anticipation of a large audience, the meeting will take place at Riverview School. Some board meetings with this controversial topic on the agenda have drawn over capacity crowds (57 people plus 1) when held at Village Hall.
The search for EMS service is prompted by the Salem Town Board's lack of action on an agreement for Salem Fire/Rescue to provide emergency medical services to the village, with Silver Lake Fire Department firefighters acting as first responders. That arrangement, approved by the Silver Lake Village Board in March, was the result of  over a year's worth of discussion of options. It also meant the village would not be contracting for EMS with Silver Lake Rescue Squad Inc. for the first time in over 30 years. Money saved by not contracting with Silver Lake Rescue was earmarked to pay for staffing the fire department.
Earlier this month, the board received three bids for paramedic services, from Medix/Curtis, Antioch Rescue Squad and Silver Lake Rescue Squad Inc.