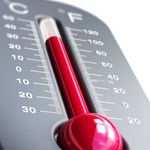 The hot and sticky weather of late is going to peak Wednesday and Thursday when the high temperature is expected to hit 90 degrees as a high both days, says the latest National Weather Service forecast.
Today the high is forecast for a mere 88 with 89 tomorrow.
There's not much chance of rain in the time period either, with just a 30 percent chance of thunderstorms cropping up on Thursday. Friday there's a 50 percent chance of thunderstorms and temps are expected to dip to a chilly 81 on Saturday and 80 on Sunday.