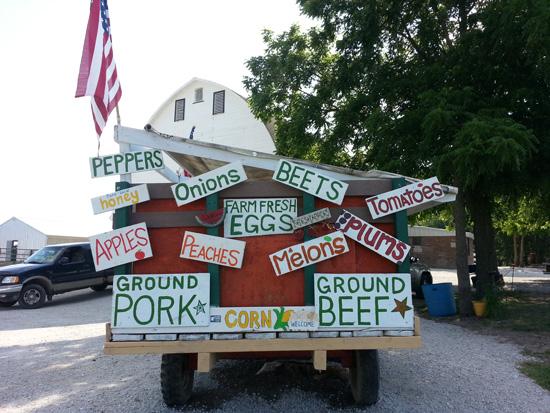 Note: Meyer Family Farms is a westofthei.com sponsor. — DH
Meyer Family Farms, 22201 Highway 50 (75th Street) Salem is now open every day through November from 8 a.m. to 8 p.m. to help you eat local. The farm stand features fresh produce, jams and syrups, eggs and freezer meat.
We're excited to announce that we  have our own sweet freshly picked available now!
Most days you can count on us having:
Eggs
Zucchini
Cucumbers
Beans
Onions
Sweet corn
Green and other color peppers.
Peaches
Watermelon
Cantaloupe
Pure, raw local honey
When available, we also carry:
Apples
Plums
Nectarine
Blueberries
Strawberries
Dill
Cherries
Peas
Carrots
And don't forget our meat selection. We have freezer meat — pigs and steers — as well as ground beef, ground pork (breakfast sausage) and steaks by the pound. We are also now carrying Marcia's Kitchen Dilly beans. Check us out on Facebook. Like us to keep up with the latest!