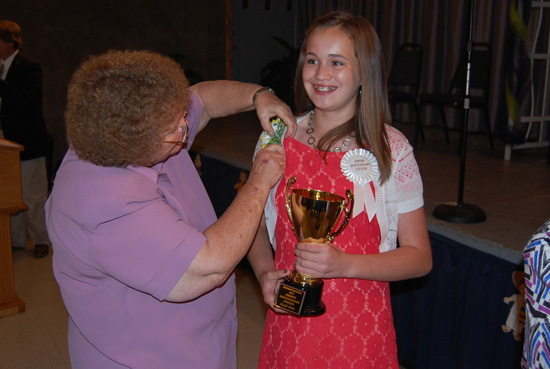 Kayli Bohr was named the 2013 Bristol junior outstanding citizen at the Bristol Progress Days coronation banquet Friday evening.
Kayli is 12, and will be a seventh grader this fall at Bristol School. She is the daughter of Steve and Rhonda Bohr.
Here is some video of Kayli being named the junior citizen:
Kayli's nomination information said she has been an A plus student and has been in the school play for the last two years. She has competed in Math 24 competitions and has been on the honor roll. She also won the 6th grade band award for academic and character achievement. She is active in advanced and jazz band and has been on the school softball team. Outside of school she has participated in Girl Scouts, Safe Harbor Pet supply drive and MATC career day for police science and machining.
The other final contestants were Amanda Gorsuch and Shelby Serritella.
Coming up next at the banquet will be the naming of the 2013 Miss Bristol. Check back.