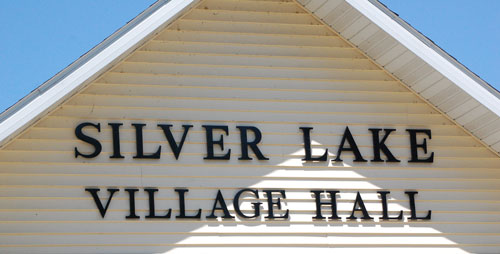 Proponents on the Silver Lake Village Board favoring staying with Silver Lake Rescue Inc. on one side and exploring contracting with Antioch Rescue Squad on the other side debated the issue of paramedic service for the village at a special board meeting Wednesday at Riverview School.
There was no vote on the matter. Trustee Michael Decker was absent. This was Trustee Paul Snellen's first meeting.
Most of the verbal back and forth took place between Trustee Patrick Dunn, who favors exploring a contract with Antioch Rescue, and village President Sue Gerber and Trustee Barbara Ironside, who are not in favor of pursuing a contract with Antioch and instead want to continue with Silver Lake Rescue.
The search for EMS service is prompted by the Salem Town Board's lack of action on an agreement for Salem Fire/Rescue to provide emergency medical services to the village, with Silver Lake Fire Department firefighters acting as first responders. That arrangement, approved by the Silver Lake Village Board in March, was the result of  over a year's worth of discussion of options. It also meant the village would not be contracting for EMS with Silver Lake Rescue Squad Inc. for the first time in over 30 years. Money saved by not contracting with Silver Lake Rescue was earmarked to pay for staffing the fire department.
Last week, the board received three bids for paramedic services, from Medix/Curtis, Antioch Rescue Squad and Silver Lake Rescue Squad Inc.
Dunn began Wednesday's discussion by suggesting that the board not consider Medix/Curtis as their proposal would cost the village $300,000 a year.
Dunn also contended that Silver Lake Rescue's bid was improper because the squad relies on paramedic intercept while the bid asked for bids to provide paramedic service.
Next, Dunn cited a report from the doctor who is the director of emergency medical services for Kenosha County that says there were 32 EMS calls this year in which Silver Lake Rescue Squad should have called for paramedic intercept but did not.
"Silver Lake Rescue  is possibly putting our citizens in harm's way by not calling for paramedic intercept," Dunn said.
Gerber disputed Dunn's interpretation of the cited report and said the conclusion put forth by Dunn was not supported by Silver Lake Rescue's medical director.
Dunn then said he recommended the board pursue a contract negotiation with Antioch Rescue, which in the submitted bid proposed a $7,000 annual fee to the village.
Gerber criticized the Antioch bid on several counts.
She expressed doubt that the approximately 8 mile trip one way from downtown Antioch to Silver Lake could be made in less than 10 to 20 minutes.
Gerber also was critical of the fact that Antioch Rescue is currently not licensed in Wisconsin. Last week, an Antioch Rescue Squad representative said he felt the squad could respond in Silver Lake under the mutual aid or MABAS system while working toward a Wisconsin license. But Gerber said she did not feel comfortable with that.
"I cannot consciously accept a plan where we don't even know if they will get a Wisconsin license," Gerber said. "When they get their license … come back and talk to us."
Trustee Barbara Ironside suggested putting the matter to a referendum. Dunn contended the issue did not qualify for a referendum, and then abruptly motioned for adjournment at about 7:45 p.m. after about 45 minutes of discussion.
No citizen comment was allowed.
The board's next scheduled meeting is Wednesday, July 17.