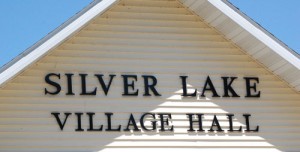 The Silver Lake Village Board on Wednesday appointed Paul Snellen to the Village Board to fill the vacancy created by the resignation of David Snow last month.
Snellen was one of five people who submitted letters of interest regarding filling the position. The others were: Jo Lasdasky, Roger Johnson, Rebecca Pattie and Laurie Starkey.
Village procedures call for the village president to make a suggestion to fill open trustee seats, but the board must act on the matter. Gerber suggested Starkey, citing her work to stop train whistle blowing trains pass through the village. With her letter of interest, Starkey included the signatures of 40 residents supporting her appointment.
Trustee Michael Decker said he agreed with Gerber's choice, saying he was impressed with Starkey's extra effort in obtaining the signatures of support. But Trustee Patrick Dunn said he favored Snellen and Trustee Soti Wilber said she favored Snellen too, citing his public works experience and lack of known position on local controversial issues.
"He's never been involved in any of the conflicts …," Wilber said.
Dunn moved to name Snellen to the seat and Wilber seconded the motion. Decker was the first vote in the roll call. He hesitated, but eventually voted in favor of Snellen's appointment. Snellen was approved by a 5 to 2 vote, with President Sue Gerber and Trustee Barbara Ironside voting no.
Snellen did not appear to be present at the meeting.