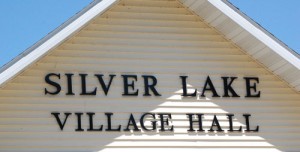 The Silver Lake Village Board heard Wednesday from three bidders seeking to become the provider of EMS/paramedic service to village residents.
Submitting bids were Medix/Curtis Ambulance, Antioch Rescue Squad and Silver Lake Rescue Squad Inc.
The board opened the bids for the first time at the Village Board meeting. Village President Sue Gerber said she did not believe there was sufficient time to also make a decision Wednesday night. Other board members apparently agreed as action on the matter was tabled later by a unanimous  vote.
A representative of each organization gave a summary of their bid.
Jim Baker, CEO of Medix/Curtis said his company operates in Milwaukee, Madison and Adams County. The company has a station in Burlington and recently took over operation of the Delavan Rescue Squad. Curtis said his company providing paramedic service to Silver Lake would cost between $200,000 and $300,000 a year, depending on the level of staffing. "Bluntly it's expensive," Baker said. "It's expensive because don't have a lot of call volume."
Brian DeKind, chief of Antioch Rescue, presented his organization's proposal. Currently, ARS is not licensed in Wisconsin but could serve Silver Lake immediately as mutual aid. If the relationship became more long-term, he thinks ARS could be fully accredited in Wisconsin by spring 2014. DeKind said ARS proposes having a paramedic based in the Silver Lake Fire Department station to answer calls eventually. ARS would charge Silver Lake $7,000 per year for the two years of the proposed agreement.
Wendy Lasko represented Silver Lake Rescue Squad. She outlined a proposal of providing IV-tech level services with paramedic intercepts when needed from other departments. Last year, the squad had 142 calls within Silver Lake and two required paramedic intercept, said Bob Johnson, SLRS chief. SLRS proposes a fee to the village of $27,000 per year, the fee it has charged for the last two years. SLRS is the village's current EMS provider.
During the Antioch Rescue presentation, former Trustee Alan Bryner, speaking from the audience, raised issues about ARS's proposal and controversy the squad has been involved in. As the exchange grew heated between some board members, other audience members and Bryner, Trustees Pat Dunn and Cyndy Schwebke said Bryner made an obscene gesture at them. Dunn directed a village police officer to remove Bryner from the room. But Gerber shouted that she was in charge of the meeting while hitting her gavel so hard it broke. Gerber asked Bryner to leave and he did without escort.
The meeting almost didn't happen as the board room was over safe capacity (57 people). Eventually enough people left or watched the meeting from the hall to allow the meeting to proceed.
The search for EMS service is prompted by the Salem Town Board's lack of action on an agreement for Salem Fire/Rescue to provide emergency medical services to the village, with Silver Lake Fire Department firefighters acting as first responders. That arrangement, approved by the Silver Lake Village Board in March, was the result of  over a year's worth of discussion of options. It also meant the village would not be contracting for EMS with Silver Lake Rescue Squad Inc. for the first time in over 30 years. Money saved by not contracting with Silver Lake Rescue was earmarked to pay for staffing the fire department.