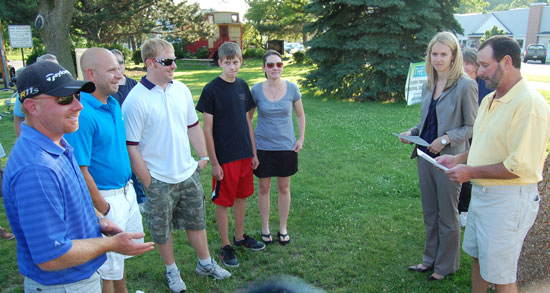 A plaque bearing the name of community leader Cliff Cantwell was unveiled at the Central Park Flag Pole Monday evening.
The base of the pole bears the names of people who have contributed to the community of Twin Lakes.
Cantwell died March 27 at the age of 71. Through the years he had been a member of the Twin Lakes Park Commission, a leader of the Twin Lakes Area Chamber and Business Association, one of the founders of the Aquanuts Show Ski team and instrumental in numerous other community efforts.
Village President Howard Skinner and village administrator Jennifer Pollitt delivered some prepared remarks remembering Cantwell at the unveiling.
"To the family members of Cliff Cantwell, on behalf of the citizens of Twin Lakes, members of the Village Board, the Park Commission, we would like to honor and express our appreciation for the many years of service to the Twin Lakes community by dedicating this outstanding citizen plaque in Cliff Cantwell's name," Skinner said.
Pollitt said "Cliff always wanted to better the Twin Lakes community … Cliff was reliable, supportive and engaging of any initiative to improve the quality of life in Twin Lakes."
Here's video of Skinner's and Pollitt's remarks in full:

Family members, friends and village officials attended the ceremony.