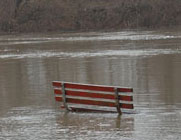 The rains of Tuesday and today have caused the Fox River to rise quickly back over flood stage, reversing what had been a trend of receding levels as measured at the New Munster gauge.
The most recent observation at 7 a.m. today has the river at 11.18 feet. At 7:15 a.m, Tuesday, the river was at 9.66 feet. Flood stage is 10 feet.
The current forecast for the river has it reaching the moderate flood stage of 13 feet by Thursday evening.
New rainfall of three-quarters to one inch of new rain is forecast for today. High temperature is forecast to reach 85.  There's also a 40 percent chance of thunderstorms tonight and Thursday.