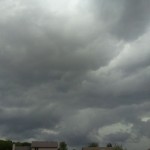 It seems likely that the area will see some more thunderstorm activity today and tonight, according tot eh National Weather Service forecast.
During the day there is a 100 percent chance of thunderstroms in the current forecast. Looking out the window to the west and at the radar, it seems like that could be as soon as within the next hour or so.
Tonight, there's an 80 percent chance of thunderstorms.
The high temperature today is expected to hit 82 and drop to 67 tonight.
UPDATE 8:23 a.m. — The NWS has issued a short-term forecast that says the thunderstorms headed our way along the Illinois border could produce gusty winds up to 45 mph.
UPDATE 8:33 a.m. — Twin Lakes Police office reports to dispatch that storm is "almost here."
UPDATE 8:50 a.m. — Storm moving through Paddock Lake. Heavy rain gusty winds, lightning. Here's some video:
UPDATE 8:56 a.m. — Deputy dispatched to investigate report of downed tree or tree limb on Fox River Road, about 8200 block.