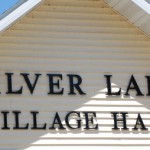 The Village of Silver Lake Board met this evening.  One of the agenda items had to do with the agreement with Silver Lake Rescue Squad, Inc., for paramedic services.  Jeff Albrecht, as a member of the audience, urged the board to look at other options, other entities, who are willing to quote and work with the fire department.  "It's our duty to the citizens to open up the bidding on the process," he said.
Another audience member, Colleen Dykstra, urged a referendum vote.  "Let the people decide, paramedics or Silver Lake Rescue.  We're concerned about Antioch?  People were concerned about Salem.  To me, my life is more important."
Frank Gagliardi, representing Silver Lake Rescue Squad, Inc., turned in the squad's contract yesterday, which had been requested by the board.  He said that this has gone back and forth and several proposals were submitted over the last nine months.  This one is simple, and straightforward, without a lot of legalese.  He said that this is a short, two-page agreement.  It calls for 24-hour emergency ambulance services over a three-year period, with a ninety-day opt-out period.  He said that the Silver Lake Rescue Squad is "here for the citizens."  The contract's rate is $27,000/year, and he also mentioned that they took one month at a reduced rate.  "We are willing to talk," he said.
Gagliardi said that their game plan is to become paramedics and raise their ILS status.  Trustee Sotiria Wilber said that she felt that the agreement was understandable, but that they've gone through three already.  The first was $0, then $7,500, then $20,000, and now $27,000.  "Where are you helping to cut costs for the citizens, the taxpayers?" she asked.  Gagliardi's response was, "Why didn't you accept it back then?"  He said, "We're playing Russian negotiation."  He stated that he didn't think the board has been up front with him.  He's not a member of either group.  "The Silver Lake Rescue Squad has been here; they have not abandoned their duty.  Everyone wanted Salem; they turned them down.  Now, you have to come back to your client."
He stated that he understands Albrecht's earlier comment about not being paramedic services.  It may not be feasible.  He said, "We'll need to invest in the people, the staff, upgrade our services."  Wilber stated that she still felt that the $27,000 was too much.  "Wheatland pays $7,500.  This is not helping the community."
Gagliardi brought up the board meeting in February that was held in Riverview's gym.  (Click here to read the report on that meeting:  Silver Lake Rescue Squad Contract Extended for a Month.)  At that meeting, he said, it was decided not to vote on Salem.  He had suggested a sixty to ninety-day gap, at a reduced amount, to give Linda Gray, the attorney, and him a chance to negotiate.  "But, no, you said at that meeting no.  It needs to get done.  So, we did the thirty-day agreement."
"There was no pay raise for years upon years.  There was only an understanding, no contract.  It's been $27,000 over the last three years, $25,000 before that.  There were no inflation bumps," commented Gagliardi.
Trustee Barbara Ironside said that she's been off the board for a year now.  "No one can make up their minds.  The only way to solve this is to put it out for bid.  Then, have a referendum after that."  She encouraged the board to hear Trustee Pat Dunn's proposal, get the bids in, and see where it goes.
Lori Starkey, a member of the audience, spoke up.  "We don't know who might show up at our door.  We are all sick and tired of this crap.  Enough already.  Think about the little children.  Figure it out."  It got a little rambunctious at that point, and Board President Sue Gerber pounded her gavel.  Wilber suggested tabling the agreement and making a decision.  Ironside agreed.  "Pat deserves to be heard as well," she said.  "Let Pat Dunn have the floor."  All agreed to table the agreement until the next meeting.
When Dunn's motion came up for discussion on the agenda, he urged the board to get other bids from other sources to determine whether or not a fair market value was being had.  Gerber said that she was disappointed in Dunn.  She stated that she felt that she had been blind-sided.  She heard from Todd Thomas that the Antioch Rescue Squad was in negotiations with Silver Lake and that they were signing a contract, and that Dunn was the one who had initiated talks with them.  "I was hoping that, with a new board, that we wouldn't have any more of this," she said.
Dunn vehemently disagreed with her.  "There is no contract, no negotiations."  Gerber again expressed her disappointment.  She stated that she was hoping that the board would work together.  Gerber said, "The rescue squad wants to become a paramedic service.  Their only constraint is time.  Keep pursuing with outside entities.  I can't help feeling that someone promised something."
Dunn asked Gerber what she was insinuating.  Gerber said that she didn't know; it was just a feeling that she had.  Dunn told her not to bring her feelings into meetings, only facts.  He strongly stated that he had done nothing wrong.  "We may not work together," he said.  Gerber thanked him and said, "I know where we stand."
The motion was to have a bid process to provide paramedic services to Silver Lake.  The call for closed bids would be published on Friday, June 21st, with acceptance of bids until July 3rd, at which time the bids would be opened in a closed session, reviewed and discussed.  Terry Faber said that she may need a little more time than that to get the call for bids published.  Gray stated that the bids cannot be opened in a closed session; they can be opened after the regular board meeting in an open session.  Therefore, slight modifications were made to Dunn's motion.
Gagliardi said that he was a little confused by the whole thing.  "Are the bids being offered with a trigger?  Is the low bidder the winner?  Is this like a municipal bid?"  Gray countered, "The lowest responsible bid."  Wilber said that they just wanted to see what other entities provide.  Gagliardi was still confused.  "Is this a public search?  Are you doing some fact finding, taking competitive bids?  What will you do afterwards?  You already have Silver Lake's bid."
Gerber said this was merely informational.  She'd like to see the village residents make the determination.  Dunn said, "We'll see what comes in."
One audience member said that Salem's bid was $73,000/year or more.  "We know you're in negotiations with Antioch," one woman said to Dunn.  Ironside said that it was sad to see friends and the board separated on this issue.  "We all want what's best for the village.  I'd like to see a referendum after.  Then, peace can be brought to the village, a town of 2,500 people.  It's sad."
The motion was approved by a vote of 4 to 1, with Gerber being the one dissenting voter.  Trustee Michael Decker was absent from the meeting.