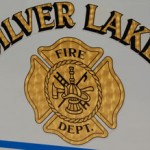 Earlier this evening, the Silver Lake Village Board Emergency Government Committee met with representatives of the Silver Lake Fire Department.  This is the second meeting in village President Sue Gerber's attempt to restart the process of determining the future of EMS and fire services in the village.  The first meeting was held last Tuesday with the Silver Lake Rescue Squad, Inc.  Separate meetings were held with each group to "minimize the mudslinging" between the two groups.  To read the report on that meeting, click here:  Silver Lake Emergency Services Committee Meets with Silver Lake Rescue Squad.
Gerber and the other two trustees (Barbara Ironside and Soti Wilber) took turns tonight raising questions of the fire chief and four other representatives of the Fire Department.  Gerber wanted to know if it was Silver Lake Fire Department Chief Andrew McFarlane's vision to "grow yourselves into one emergency/fire department force."  She wanted to know if the fire department was ready to move forward financially and staff-wise.  McFarlane stated that their goal is to become one municipal emergency services department.  "One day, we want to be a department that brings revenue to the village.  We'd like to balance the budget with the fire department and with the municipality.  We know that this can't happen overnight."
McFarlane explained how they now have a roster of 30 fire fighters, and that they have recently acquired three new certified fire fighters.  Six more will attend Fire One this fall.  "We're not the same fire department that we were thirty years ago.  We now have first responders all the way up to paramedics.  You can check the Department of Human and Family Services, Wisconsin State Scope of Practice to check out the five different levels of skills, medicines, and treatments."  (Click here if you'd like to review this:  Wisconsin EMS Scope of Practice.)
A question from the committee had to do with the emergency vehicles which are now being housed at the sewer plant.  There was talk of repairing them, which would cost $10,000, or selling them for approximately $8,500.  The chief said that "we could use the dollars to replace outdated equipment."  Also, the insurance coverage should be changed on them if they are just sitting idle.
Gerber asked about staffing.  She wanted to know if copies of the monthly schedules were provided, and McFarlane said that they were.  One fire fighter per day is on duty from 7 am to 3:30 pm.  They are always at the fire house, unless they are taking their lunch break, which has to be here in the village.  They are then on call until 5 pm.  They also discussed having the fire fighters doing light maintenance duties in their free time.
Ironside commented that "what is needed is for the Fire Department to take care of village residents and do what's best financially as well.  It's hard for people to make change.  We don't want to punish either.  I agree, it's eventually going to meet both."  The chief agreed.  "We are taking baby steps."  She wanted to know if there was any way that the two departments could work together.  The chief said that they were willing to work together, but that it wouldn't work with mudslinging and false accusations.  Gerber said, "Here we go again, both sides acting like children."  McFarlane said, "Can we work together?  Yes.  Under one roof?  No way."  The chief then said that "we all need to throw away the past."
Ironside requested a copy of the fire department's standard operating procedures.  She said, "No one for a long time reported well on fire department procedures.  No one knows anything."  She also suggested taking all the board members through a mini open house to show them what the fire fighters do during the day.  "This would help fill the black hole," she said.
One of the five fire fighters present in the audience asked the committee, "You three ladies are going to decide the fate of the Silver Lake Fire and Rescue.  What are your qualifications to do so?  An ad hoc committee was put together, but they threw their recommendations in the trash."  Gerber replied that Salem Township threw it in the trash with their voting.  Wilber stated that this is not a new committee.  This is the Emergency Government Committee.  Gerber said that it was Salem that disregarded all, not Silver Lake, and not the board.
Also mentioned was a McGrath and Associates study which was done in 2000 or 2001 by Salem, which someone thought might be stored in the vault.  This study was done without charge to the village.  Ironside said that she'd be in there on Friday and she would see if she could get copies of it.
Ironside said, "You think you have your mind made up, and your heart, as to what should be done.  Then 20 to 50 people tell you what they want done.  It's very difficult.  What with all the rumors flying, and facts."
Another fire fighter representative said that, "as long as you keep the citizens/patients' best interests in mind, you'll make the right decision."
Other discussion items included a scholarship program, Explorer Programs, internship programs, and staffing grants to help in the recruitment and retention processes.
Ironside said that they talked to Randall and Wheatland to see if they wanted to join forces, and they said no.
A closing statement came from a fire fighter:  "It's not about the Silver Lake Fire Department or the Silver Lake Rescue.  It's about our citizens.  The Fire Department is doing the best they can to raise the expertise level.  They are a hard working bunch, and they get little or no money.  They do it because they live here and want to help the community.  We're looking for resources.  Consolidation is it.  We need to share specialized services to relieve the financial burden, to give us extra manpower, more ideas, more specializations, and more expertise."
Gerber said that they would talk again soon.  "You've given us some food for thought.  I thank you for coming tonight.  I appreciate everything that you do for the community.  Keep up the good recruitment."