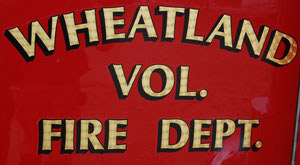 The Town of Wheatland Volunteer Fire Department is hosting its 44th Annual Softball tournament and festival on June 21-23.
On Friday, at 6 p.m. softball starts. There will be live music by Tim Castle & Young Southern from 9 p.m. to 1 a.m.
On Saturday, softball starts at 10 a.m., along with the baggo tournament. The parade will start at 1 p.m. with an interactive kids show following the parade. At 1:30 p.m., registration for the Businessmen's Water fights begins for the 2 p.m. fights. The evening is capped off with live music by Bella Cain from 9 p.m. to 1 a.m.
On Sunday,  softball starts at 10 a.m. The fire department water fights begin at 2:30 p.m. The weekend ends with DJ music.
Proceeds for the event will be used by the fire department toward a replacement for  its 1967 Chevy grass truck.