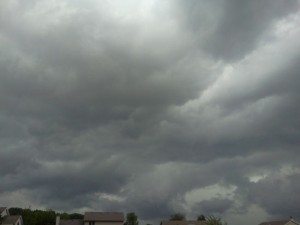 I don't know what to say about the weather forecast, but it seems like I should say something.
The National Weather Service is sending our some very mixed messages about the chance of severe weather this afternoon and evening hereabouts.
The standard area specific forecast for here does say to expect thunderstorms. But winds are not remarkable in the forecast (5 to 10 mph) and in fact the latest forecast downgrades the chance for a storm from 80 percent to 60 percent this afternoon in the Salem area. Thunderstorm chance this afternoon in Twin Lakes is 80 percent. Chance of thunderstorm tonight is 90 percent for Salem, 80 percent for Twin Lakes.
But then there's this statement put out a little bit ago by the NWS Milwaukee/Sullivan office that paints a more grim outlook. This statement has Western Kenosha County firmly in the area with the highest potential for severe weather, with the storms developing between 2 and 9 p.m.
For what it's worth, the Antioch, Illinois NWS forecast includes a hazardous weather outlook warning of storms capable of producing tornadoes, winds in excess of 75 mph, isolated hail to the "size of baseballs" (!!) and there is a flash flood watch in effect. Is weather really going to be that different just over the border?
Probably better to stick with the more cautious outlook I guess!