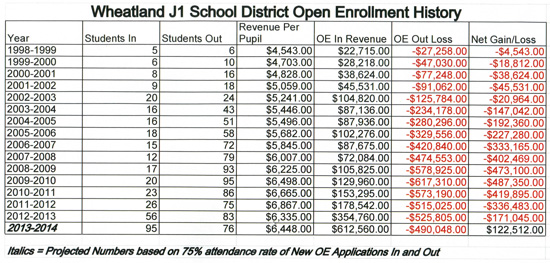 Since open enrollment began in 1998-99, Wheatland Center School has been on the wrong side of the program — losing more students than it brings in.
Until next school year.
The district is projecting open enrolling in 19 more students than will open enroll out of the district in 2013-14, said district administrator Jason Tadlock. That's the first time the district has had a positive open enrollment balance.
In Wisconsin, open enrollment allows students to move to other school districts in which they do not reside without paying tuition if the non-resident district has space.
Western Kenosha County is in a unique situation for open enrollment. Open enrollment in Wisconsin is district to district. With school districts here being relatively small and with one building each, open enrollment here effectively allows parents to select the school building they would like their child to attend — if space is available. Consequently, districts have become more aggressive about pursuing open enrollment sign-ups. Districts receive state aid for open enrollment students.
""It's a very competitive environment," Tadlock said.
That sort of marketing is part of the reason Wheatland has turned the open enrollment situation around. But more important are the changes that have been made at the school in recent years — highlighted by advances in technology integration into the daily curriculum, and world language instruction, Tadlock said. The school also has no-cut sports teams and expanded extra-curriculars.
"I think it's really a combination of all of that," Tadlock said.
Open enrolling in more students than out was a very important benchmark. But Tadlock (who is leaving the district for another job in July) said the School Board and administration have other goals it now would like to see met — namely people moving to the district to ensure they can attend Wheatland, losing fewer resident students and more staff members seeking to open enroll their students at WCS because they are that enthusiastic about its education experience.
"If we're doing the right things for kids, people will want their children to be here," Tadlock said.