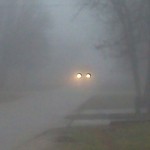 Patchy fog it the area before 10 a.m. is being forecast by the National Weather Service today.
There also is a 40 percent chance of rain, also mainly before 10 a.m. The high temp should be about 75.
Looking ahead, there's currently a 70 percent chance of a thunderstorm Wednesday.