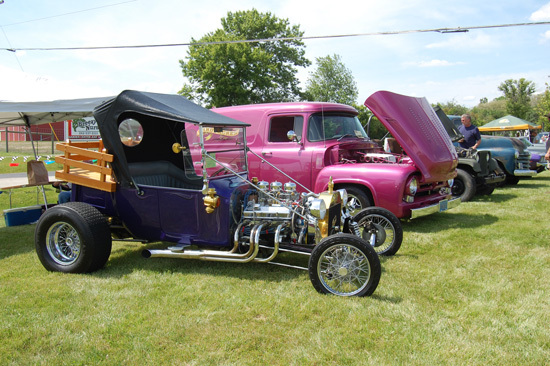 Note: Paddock Lake Auto Parts-Bumper to Bumper is a westofthei.com sponsor. — DH.
Bumper to Bumper Auto Parts hosted its annual Customer Appreciation event Saturday at the store's location, 27640 75th St. (Highway 50), Salem.
The event included a sale inside the store and a variety of activities outside, including a baggo tournament and Boy Scouts serving up brats and hot dogs.
A centerpiece of the day was the Classic Car Show, which drew a wide variety of machines. Trophies were awarded for first and second runner-up and Best of Show as follows:
Second runner up went to Dave Modder and his one-of-a-kind jet powered 1940 Ford pick-up truck.
First runner up went to Fred and Kathy Hansen and their 1968 AMC AMX (complete with 8-track player).
Best of show went to Tom Brickner and his 1968 Chevy Nova SS.
Bumper to Bumper-Paddock Lake Auto Parts also announced the recipients of their annual scholarships at the show. Taylor Janssen was the recipient from Wilmot Union High School and Ben Aker was the recipient from Central High School.
Here are some more photos from the event: