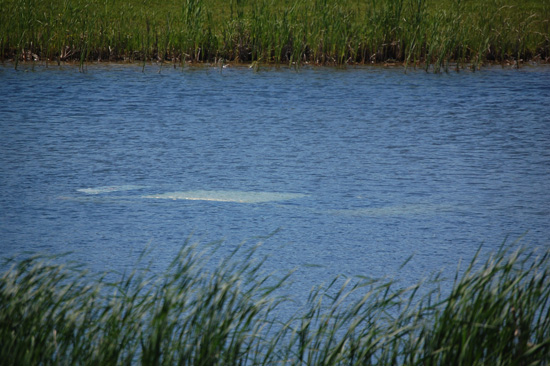 At 10:33 a.m. various fire department units are responding to a retention pond in the area of Highway 142 and the West Frontage Road of I-94  in Paris for a water call.
Units are investigating a report of a vehicle in the retention pond. Paris Fire and Rescue and county dive team members are responding.
UPDATE 11:21 a.m. From the scene. — There is a vehicle in the water. Dive team members are s suiting up.
UPDATE 11:38 a.m. — Diver is in the water and appears to attempting to attach cables to the vehicle. Tow truck also moving into position.
UPDATE 11:48 a.m. — Diver now away from the vehicle but still in pond swimming from one end to the other.
UPDATE 12:03 p.m. — Diver out of pond. Two other divers now walking perimeter in water.
UPDATE 12:14 p.m. — Perimeter searchers out of pond. Another diver entering the pond for additional searching.
UPDATE 12:25 p.m. — Search of north shoreline of pond completed.
UPDATE 2:56 p.m. — Search terminated. Divers searched for hours to make sure no one was in the water. Car was just pulled from the pond. Paris Fire Department Assistant Fire Chief Richard Perkins says the vehicle belonged to a woman pedestrian who was struck on I-94 early this morning. The car was originally spotted by a WISN-TV news crew that was reporting on the crash this morning.
UPDATE 6/10/2013 — The woman died from her injuries early Sunday, FOX6 News is reporting.
Here's some video of the car being pulled from the water after a diver attached a hook to the car: