Note: This post is sponsored by American Family Insurance, Dennis Meek agent. — DH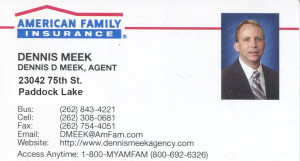 The following students were named to the Bristol School Honor Roll for the third quarter of the 2012-13 school year:
(* denotes straight As)
Fourth Grade
First Honors: *Olivia Bergmann, David Bonnes, *Mason Buesing, Alexia Carrera, *Matthew Felske, Makenna Glassman, Amanda Gorsuch, Stephen Harscher, *Delaney Hawkins, Grace Henningfield, Rudolph Herakovich,Lorenzo Herrera, Lucas Koeppel, Chase Kveck, Ben LeFebve, Jenna Leslie, *Rachel Maddox, Daniel Masnik, Brynn McNeill, Stephanie Mickelson, Alessandra Murillo, Anna Paskey, Benjamin Pelli, *Cynthia Pelli, *Fiona Schmeelk, *Jessica Skoropinski, *Anna Thompson, Roman Varty, Carly Vogelsang.
Second Honors: Nolan Andrews, Zara Dixon, Dylan Eckhart, Madison Johnston, Emma Klinesmith, Chase Malanowksi, Vincent Mesrine, Chantelle Schoolcraft, Abigayle Stichauf, Mikaela Wynhoff.
Fifth Grade
First Honors: Trinity Alexander, *Tyler Andrews, Jillian Argersinger, *Tyler Bannon, *Holly Carter, William Cavener, Ellie Christeson, *Ethan Chyla, Teagan Coomans, Ryan Cuba, *Davin Cummings, Jordan Dahlberg, Victoria Desimoni, *Kiley Erich, *Cooper Ferruzzi, McKenna Hall, Meghan Harris, Katie Harris, Hannah Hogan, *Andrew Hrncar, David Kelly, *Kyle Kitterman, *Sarah Kuhn, *Zachary Meyers, *Austin Mordja, Tanner Mordja, Cade Nichols, *John Ortloff, *Maggie Pelli, *Chloe Perri, *Madeline Persino, Tracy Richards, Logan Salzeider, *Priscilla Scaccia, *Shelby Serritella, *Savannah Weyrauch, *Eli Willoughby, *Megan Witt, Ellie Witt, *Marcus Wolff, Jadyn Young, Gabrielle Zagame, Logan Ziegler, *Grace Ziehm.
Second Honors: Yaritza Bermudez, Tyler Carver, Sydney Crowe, Hailey Dani, William DeGoey, Mikayla Fenters, Madison Garcia, Alexis Gomez, Rachel Harris, Tyler Horton, Isabella Jaimes, Ashton Lance, Dylan Metcalfe, Gianna Pellegrino, Emma Pignotti-Wiberg, Garrett Reynolds, Colton Soto, Kassidy Valarezo, Molly Wadin, Nicholas Wiedmeyer.
 Sixth Grade
First Honors: *Katelyn Bergmann, Kaylee Bernardy, *Kayli Bohr, *Zachary Cain, *Hope Caya, *Kyler Chapman, *Noah Coleman, *Sierra Cruz, *Rebecca Edwards, *Kathryn Farrell, *Kapish Gopar, *Samy Greco, *Dylan Griffing, *Abby Jones, *Gabriella Kaebisch, Tenny Kapellusch, *Nicole Knoerr, *Claire Koeppel, *Kelsey Kurylo, *Claire Lawrence, Eric Lehmann, *Ben Mickelson, Cory Miller, Shalynn Mulloy, Amba Nkabyo, Tanner Peterson, Cody Proell, *Javier Retana, Haley Riordan, Colton Schultz, Brystal Schultz, *Josh Schultze, Grant Thomas, *Alexis Toney, *Zachary Tracy, *Marie Tyree, Samantha Zubor.
Second Honors: Tristan Clark, Logan Deegan, Raul Gil, Josh Grimm, Michael Harscher, Rielly Huskey, Tayla Kapity, Haleigh Kruse, Shawna Lunn, Iann Orozco, Salman Raheem, Shane Schlosser, Chris Sdralis, Kaitlyn Shaffer, Katelyn Thatcher, Emily Thomas, Stephen Varty, William Vineyard, Alex Vivian, Kyle Vivian.
Seventh Grade
First Honors: Aysiah Aguilar, Paige Armbruster, Payton Armbruster, Bradley Brennum, *Max Brown, Osmar Castillo, Felix Desimoni, Kailey Duval, Maria Rene Essary, *Hannah Ezelle, *Joseph Graham, Maggie Grech-Cumbo, *Emma Heller-Cavener, Paige Horrom, Emily Houtz, Grace Jahnke, *Alexis Kelly, *Mickenzie Kennedy, *Sam LeFebve, *Madison LeRoy, *Josh Leslie, Colin Mast, Alex McGonegal, *Trevor Millhouse, Nicole Noble, Jason Olson, *Kathryn Perri, Daniel Persino, Jack Polick, Brianna Reid, Keelin Richards, Soheila Roenfanz, Caitlin Salzeider, Breanna Scherer, Susannah Sinkovec, Kristin Swatkowski, Danielle Venckus, Ashley Wells, Mason Welter.
Second Honors: Lindsay Anderson, Jenna Bradtke, Jada Cruz, Aria Elfering, Chase Erickson, Dustin Hogan, Jack Johnson, Zayin Knottnerus, Kai Kuebler, Bergen Kuhn, Olivia MacKay, Reid McNeill, Gunner Peterson, Kylee Plants, Alexis Saad, Jaylin Slater, Emma Slutsky, Cullen Thurs, Ben Vogelsang, Lindsay Weber, Jasmin Zamora.
Eighth Grade
First Honors: Austin Anderson, Brantleigh Bannon, Breanna Beitzel, *Katrina Bostanche, *Baylee Chappell, *Devin Coleman, *Karli Cox, Emma Crowe, *John Dietz, Shania Dumelle, Meghan Faszholz, *Lucas Graveley, *Alyssa Hrncar, Emily Jones, Madeline Leafblad, Brett Niederer, *Anna Leigh Niles, Kestly O'Neill, Emma Paskey, Arielle Richards, *Delaney Sjong, Nicholas Uzzardo.
Second Honors: Zachary Bannon, Nathan Caya, Samantha Fornell, Noble Freels, Hannah Fugate, Joshua Fugate, Alexa Fullerton, Rhett Kliger, Tyler Krause, Austin Kurylo, Aaron Lance, Caitlyn Lawrence, Emily Ortloff, Sheel Patel, Alexandra Sostre, Griffin Switalla, Dorothy Wadin.
Note: This post is sponsored by American Family Insurance, Dennis Meek agent. — DH