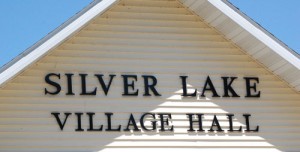 Silver Lake Trustee David Snow's resignation — hinted at last month — was made official Wednesday night when it was accepted by a unanimous vote of the present board members.
Snow's resignation was prompted by a new job that would not let him fulfill his trustee responsibilities, he told westofthei.com last month.
Later in the meeting, Trustee Barbara Ironside made a motion to leave the seat open until it could be filled at the next regular election in April 2014, but later withdrew it when there seemed to be little support for it.
Ironside said she wanted to avoid having someone appointed who had not stood for election and perhaps have their major qualification be being a political ally of one board faction or the other.
"The people in this village voted," Ironside said. " I don't think we have a right to put someone on the board that was not in the election and ran."
The two remaining unsuccessful candidates from the April election likely would not be appointed to the board because they are not aligned politically with the majority of the current board. This same dynamic apparently led to Soti Wilber being appointed to the board to fill a vacancy created by Gerber assuming the presidency in April, even though Wilber finished last among all trustee candidates in the April election.
Trustee Mike Decker said he was not comfortable leaving the Snow seat open because the board could be facing some tough decisions this year — especially at budget time. Having only six members voting could see the board deadlocked.
President Sue Gerber suggested she could routinely abstain in that instance, but village attorney Linda Gray said Gerber could only abstain when she had legal grounds to do so.
Gerber also suggested that  Silver Lake might consider a process such as has been followed by Paddock Lake, which also has had two trustee seat vacancies in the last two months. There, the village president has solicited letters from interested individuals to establish a pool from which a nominee is selected.
Seeing little support for her leaving the seat vacant motion, Ironside ultimately tabled her motion. What procedure to follow is expected to be discussed at the next Village Board meeting on June 19.