Note: This post sponsored by Paddock Lake Pet Service Inc. — DH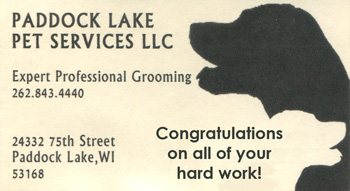 The following students were named to the Salem School Honor Roll for the third quarter of the 2012-13 school year:
Eighth Grade
High Honors: Kaitlyn Boarini, Tanner Bykowski ,Alexis Carlson, Emma Delisi, Riley Edquist, Hannah Fellows, Joshua Friedrichs, Fleur Gawlik, Kyle Gray, Beth Hameau, Tessa Jahneke, Trent Jones, Mackenzie Karow, Janel Katzer, Julie Katzer, Amanda Keating, Lindsey Kimpler, Kyle Kuhfuss, Lisa Landry, Scott Lynch, Natalie Meyer, Sarai Roberts, Jeffrey Schmadebeck, Zachery Smith, Stevi Sterling, Tyler Stone, Jamie Tambornino, Emily Wells, Jennifer Young.
Honors: Lucas Andre, Mackormic Bernhardt, Alyssa Bock, Katelynn Buchholtz, Autumn Carlson, James Cater, Carter Clothier, Heaven Fecht, Garrett Gilbert, Kevin Ginnow, Madeline Hansen, Zachary Hedrick, Nichole Hudrick, Joseph Hulback, Eleazar Ibarra, Ryan Kirsch, Sasha Landa, Samantha Manis, Abigail Marcquenski, Lindsay Mazurek, Trace Miller, Michael Mosback, Jared Pease, Dawson Rausch, Katrina Rhodes, Julia Rook, Kaitlyn Serini, Rebecca Sheen, Trevor Silber, Jeffery Steinbach, Megan Turk, Jacob Voigt, Henry Westerfield, Mikayla Wittliff, Jenna Wozniak.
Seventh Grade
High Honors: Kaitlyn Barningham, Kaila Beaumier, Rebecca Bell, Addison Borchert, Lauren Bucko, Joshua Engberg, Justin Fanter, Johnathan Filiatreault, Nicholas Frederick, Braden Gere, Maggie Hillock, Trenton Kmiec, Lauren Lamey, Molly Landaeta, Lauren LaPlant, Hailey Lord, Mackenzie Maccaux, Celina McClellan, Tyler Oswalt, Jodi Piccone, Rosa Roloff, Lillian Schnider, Siera Sieberth, Logan Sperling, James Steinbach, Connor Stickels, Haley Trecker, Kirstin Warren, Reanna Wesinger, Melissa Wilkinson.
Honors: Nicholas Bakutis, Steven Bezotte, Meghan Capra, John Coari, Makenzie Cooper, Christine Dogan, Christian Francoeur, Tresten Gold, Colten Greenhill, Jonathan Hahn, Haley Hassett, Emma Huizenga, Baylor Johnson, Alexander Kovachik, Khatarina Kramer, Michelle LaMeer, Jon Luellen, Nikole Poole, Matthew Quist, Nicholas Rasmussen, Laura Silberschmidt, Isaac Sippy, Ryan Sperling, Cameron Spinler, Jasmine Wagner, Jasmine Washington.
Sixth Grade
High Honors: Emma Anderson, Natalie Anderson, Jacob Boas, Spencer Cain, Elizabeth Cater, Paige Dawley, Anna Delisi, Heidi Dittmer, Gavin Ford, Monica Frackowiak, Ashlyn Friedrichs, Brandon Gonzales, Nicholas Haerter, Kristina Held, Dana Herman, Olivia Hinze, Abigail Jones, Sydney Juarez, Olivia Kazumura, Jefferson Kearby, Adam Kordecki, Cameron Krueger, Amelia Kusch, Cameron Lord, Parker Lyon, Angelina Mack, Brenna Maloney, Caileigh McFeters, Matthew Pham, Carina Rook, Ryan Schumacher, Hanna Stewart, Boden Stickels, Zane Sumwalt, Mary Teumer, Nicholas Trecker, Brandon Ugalde, Genevieve VanKammen, Daniella Viirre.
Honors: Jonathan Adams, Megan Ager, Christopher Alexander, Malia Bernhardt, Cameron Boncher, Jason Eberle, Destiny Elliott, Taylor Feltes, Jade Fluger, Cameron Fonk, Brylee Foster, Noah Fox, Alejandro Garcia, Haley Grubb, Autumn Jackson, Ely Johnson, Karly Kellogg, John Marcquenski, Ashton Murphy, Jaden Ocasio, Sam Perry, Taylor Poglitsch, Rylin Ratliff, Patricia Rehberg, Alex Rubenacker, Alexis Samuels, Braeden Schmidt, Jake Schofield, Jennifer Sheen, Jessica Sheen, Dana Strauss, Trenten Stueber, Henry Tambornino, Nichoals Ullrich, Tyler Vernezze, Shelby Zinsky.
Note: This post sponsored by Paddock Lake Pet Service Inc. — DH