Note: This post sponsored by Derek's Custom Computers. — DH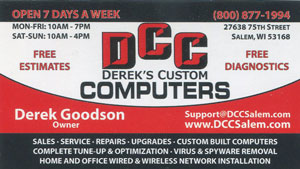 The following Paris School students were named to the third quarter honor roll for the 2012-13 school year:
Sixth Grade
High Honors: Reid LaBell, Chloey Menarek, Luke Nosek, Joyce Riphagen.
Honors: Luke Acosta, Joseph Alberth, Morgan Fliess, MacKenzie Fricke, Kelsey Gross, Alexis Havican, Levi Hardesty, Mary Kevek, Neha Patel, Jamie Schoen.
Seventh Grade
High Honors: Andrea Edquist, Kendall Krumm, Michele Rovella.
Honors: Braden Beth, Alexis Erickson, Shannen Griffiths, Danielle Gulliford, Wylie Jackson, Brayden Naef, Edward Norred, Anna Sager, Matthew Smith, Adam Tatro, Francesca Weidner, Seth Yarger.
Eighth Grade
High Honors: Nicole Ashmus, Michelle Belmont, Sarah Blair, William Cushman, Andrew Koroly, Parker Krumm, Bailey Menarek, Taylor Meredith, Andrea Muhlenbeck, Jack Schroeder, Nicole Stratton, Jessica Werth, Jacob Werth, Julia Ziemelis.
Honors: Aidan Brown, Mikayla Chon, Nadia Foltz, Sara Heibor, Kara Laffin, Tennille Stanfield, Carrie Weis.
Note: This post sponsored by Derek's Custom Computers. — DH