Note: This post sponsored by Derek's Custom Computers. — DH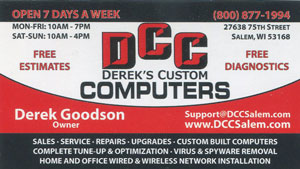 The following students were named to the Brighton School third quarter honor roll for the 2012-13 school year:
8th Grade
High Honors: Sheena Derler, Julianna Ellerbrock, Claudia Fox, Victoria Salerno, Isabella Tondi, Thomas Walsh, Arielle Zamba.
Honor Roll: Julianna Calzada, Emily Allen, Tyler Daniels, Noah Kofron, Kaeley Mueller.
Honorable Mention: Alexander Bruzas, Hunter Conrad, Todora Lux, Dustin Hucker, Logan Hughes, Josiah McDermit, Rory Schmucker, Weston Uhlenhake.
7th Grade
High Honors: Claire Fox, Kelly Wolkober, Brooke Wysiatko.
Honor Roll: Linsday Meyers, Taylor Mitchell, Elijah Scheckel.
Honorable Mention: Kate Husenica, Casey Ketterhagen, Abigail Moat, Melanie Petges.
6th Grade
High Honors: Alexander Salerno, Gabe Hartke, Dylan Hughes, Jack Ramsdell, Emily Springer, Mason Sullivan, Rebecca Tondi, Courtney Uhlenhake, Paris Zamba.
Honor Roll: Daniel Boyd, Joshua Ellerbrock, Braden Lejcar, Alexandrea Lemieu,x Elizabeth Petges.
Honorable Mention: Katelyn Halladay, Jordyn Schultz, Jake Mueller.
5th Grade
High Honors: Frank Bain,  Kenna Beth, Kayla Daniels, Anastasia Doyle-Bruce, Joseph Ellerbrock, Tyme Eppers, Charles Feeney, Elizabeth Gorka, Amanda Hauser, Isabelle Keen, Hannah Moat, Hannah Nelson, Nash Ramsdell, Alyssa Rasch, Daniel Seward, Adam Seybert, Ryan Spafford, Amanda Tews, Paige Wysiatko.
Honor Roll: Ryan DeBell, Heidi Ludwig, Keith Myers, Donaven Packard, Trinity Pflueger.
Note: This post sponsored by Derek's Custom Computers. — DH