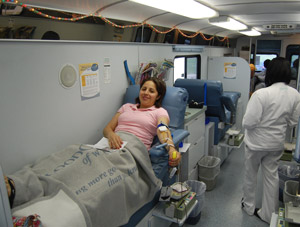 Note: James Fulmer, DDS is a westofthei.com sponsor. — DH

The Paddock Lake-based dentistry practice of James Fulmer, DDS, sponsored a blood drive, Friday, May 24.
The Blood Center of Wisconsin Bus was at the center from 7 a.m. to noon. The drive was able to collect 30 pints.
As there are four types of transfusable products that can be derived from blood — red cells, platelets, plasma and cryoprecipitate — each donation can help save up to three lives, blood donations experts say. So the 30 pints collected by the Fulmer drive could impact as many as 90 people.
This is the fourth year that James Fulmer, DDS has hosted a blood drive. Plans are to host again next year right before Memorial Day. Blood Center officials like the timing of the Fulmer drive because blood is always in need over holiday weekends.