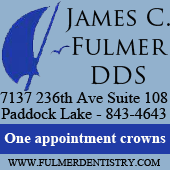 Note: This post sponsored by Paddock Lake-based dentistry practice of James Fulmer, DDS 
Lakewood School has announced its third quarter honor roll for the 2012-13 school year.
Eighth grade
High Honor Roll — Isabella Andersen, Andie Brown, Jacob Grote,  Jenna Meyer, Darren Rita, Joshua Schattner.
Honor Roll — Gabriella Gonzalez, Kahmille Grayson, Courtney Hawkins, Paige Huffmaster, Alexa Lewis, Victoria Lingis, Nathan Loeffler, Cailin McCracken, Heather Mortensen, Kylee Rockow, Adam Ruehmer, Jenna Stohr, Alondra Tapia, Russtina Walters.
Honorable Mention — Kristen Calrson, Emily Coulman, Timothy Freeman, Zachary Mattox, Jonathan Mendez, Blaize Sayers.
Seventh Grade
High Honor Roll — Madison Bailey, Ethan LaRose, Lauren Pryor, Bradley Radloff, Bryn Rohde, Jason Sherrod, Mackenzie Stiller, Jordyn VanZeeland.
Honor Roll — Zackary Anger-Christopherson, Abigail Clark, Jayden Hendrie, Jenna Kontaxis, Matthew Larson, Payton Murray, Colin O'Brien, Lily Pellegrin, Jaimie Popanda, Jared Ticha, Hunter Valach, Brandon Walters, Krista York.
Honorable Mention — Bryce Adams, Justin Brown, John Mecchella, Nicole Pflugradt, Katlyn Vanduyn, Morgan Zenon.
Sixth Grade
High Honor Roll — Bianca Andersen, Kade Carlson, Keegan Destree, Cade Markee, Bryttney Norton, Trinity Rausch, Aryana Rita, Rowan Suhre, Brandon Vonasten.
Honor Roll — Andres Camacho, Brianna DeCampa, Kaitlyn Doty, Adrianna Fico, Benjamin Gohl, Valerie Illges, Karolyn Klahs, Madelyn Lindeman, Cassandra Loeffler, Michael Ludford, Shauna Murray, Austin Norton, Alexander Olson, Olivia Rzonca, Tatum Samborski, Alexander Segura.
Honorable Mention — Jasmine Castillo, Michael Dennis, Nicholas Freeman, Onyx Gunther, Justin Kimberly, Hannah Kleinschmidt, Saul Leon, Alec Richter.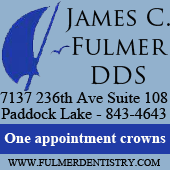 Note: This post sponsored by Paddock Lake-based dentistry practice of James Fulmer, DDS