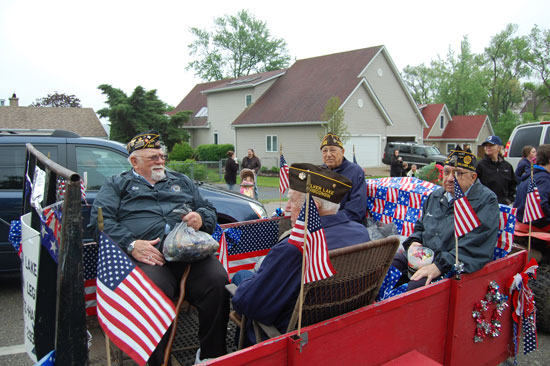 The Annual Silver Lake Schultz-Hahn American Legion Post #293 Memorial Day Parade and ceremony was held today despite some cooler than usual temperatures and little misty rain.
The parade began at 9 a.m. at Riverview School, made its way down Cogswell Drive, wound through downtown and headed back to the school. Immediately afterwards there was a ceremony in the parking lot of the Legion Hall on Cogswell Drive that honored those veterans who gave the ultimate sacrifice. The Central High School Band provided music for the ceremony.
Free refreshments followed the ceremony.
Here is some video from the ceremony:

Here is some video of the bands — Riverview School, Wheatland School, Central High School and Wilmot High School — that played in the parade:

In some parades the fire trucks blast the sirens, others are quiet. This parade is one of the sirens blaring kind. Here's some video of the fire truck section:

Here are some more photos from the parade and ceremony: