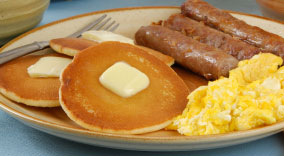 The La Salette Rummage Sale & Pancake Breakfast continues today.
The rummage sale will be held from 8:30 a.m. until noon. Items for sale include: Kitchenware, furniture, athletic equipment, toys, games, books, jewelry and other items too numerous to mention.
There will also be a raffle.
The Pancake Breakfast will take place from 8:30 a.m. until noon serving pancakes, sausage, eggs, juice and coffee.$6.00 Adults and $4.00 for children ages 4 – 12.
The La Salette Shrine is located at 10330 336th Avenue (Highway KD) in Twin Lakes. Call 877-3111 for more information.