Note: This post sponsored by Paddock Lake Auto Parts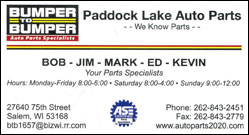 Wheatland Center School has announced its honor roll for third quarter of the 2012-13 school year.
8th grade
Highest honors: Kaylan A. Coose, Savannah D. Meyers, Sarah M. Verzal, Jesstys L. Volbrecht.
High Honors: Hunter J. Huggins, Kylie A. Laitamaki, Andrew J. Buchanan, Thomas H. McClain, Lillie D. Rogers, Amanda L. Sabourin, Bradley S. Mitchell, Jessica Batko, Kira L. Mickelson, Kaitlyn S. Olson.
Honors: John A. Capelli, Katie A. Holmstrom, Olivia P. Klean, Kylie J. Shane, Mason R. Hedrick, Darien N. Florek, Douglas S. Clements, Ryan Diderrich, Jonathan T. Ratliff, Benjamin A. Epping, Symphony Greenlee, Autumn M. Hedberg, Calvin R. Moody, Tyler Pfrommer, Tara L. Ptak.
7th Grade
Highest honors: Isaac Bruley, Annalise N. Devall, Robert McNealy, Sierra R. Olson, Samantha R. Serak, Fredrick J. Zuehls.
High honors: Katherine Grabarec, Kayli M. Humphrey, Chelsea R. Lamp, Meghan McNealy, Brock Muzzy, Margaret E. Gerlach, Hunter Hess, Edie L. Keung, Noah H. Urban, Samantha Holst, Anthony J. Poco, Rachel Senft.
Honors: Kayla M. Brever, Gavin R. Hammond, Zachary G. Jares, Montana Petersen, Nikolas R. Schaal, Ava J. Beula, Brandon S. Divito, Hayley A. Potter, Emma B. Olson, Cassandra Schneider, Ashleigh B. Vinson, Zoe E. Peters, Haley Dawley.
6th Grade
Highest honors: Riley A. Noonan, Adam R. Simmons.
High honors: Henry Bubel, Jared J. Gehrke, Jenna R. Kerkman, Morgan A. Ptak, Lauren A. Shane, Ashley J. Toomey, Brody R. Durkin, Austin J. Glidden, Molly Grabarec, Abilene F. Heichelbech, Thomas L. Olson, Julie L. Roznik, Kelsey K. Seidl, Michael J. Lucy Jr.
Honors: Alana N. Bell, Robert Bullard, Kayla Burian, Evan B. Henry, Jianna M. Puchalski, Amanda M. Caldwell, Hanna L. Keisler, Thomas R. Wilton, Larz Gough, Seth J. Sanders, Joseph Batko, Leah M. Pisani, Niko T. Rosario.
5th Grade
Highest honors: Nyssa E. Zuehls.
High honors: Gabrielle L. Gaynor, Samuel B. Hanson, Zachary B. Hanson, Angelina C. Burzawa, Keith L. Dowell, Gavin A. Goldstein, Alyssa S. Muzzy, Sheli Spencer-Horton.
Honors: Anthony B. Buccieri Jr., Aubree A. Guajardo, Kylie M. High, Mackenzie R. Wesoloski, Liam J McAloon, Nora I. Heichelbech, Jackson M. Wachal, Emerald L. Zimmerman, Qwade J. Gehring, Michael A. Hodnik, Jada S. Nelsen, Logan P. Pye, Andrew M. Vinson, Scott D. Werner.
Note: This post sponsored by Paddock Lake Auto Parts