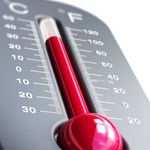 Temperatures are expected to top 80 today for the third straight day, according to the National Weather Service forecast.
There's only a 30 percent chance of a thunderstorm today, but the chance of rain will pick up tonight at 50 percent and become likely Wednesday with a 80 percent chance.
High temperatures for the balance of the week — including the holiday weekend — are forecast to be in the high 60s at this point.