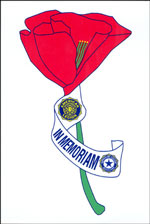 On May 24th and 25th the familiar red poppy of the American Legion Auxiliary will be offered to shoppers throughout the Paddock Lake, Silver Lake, Bristol and Brighton District 1 areas by both auxiliary and legion members of Schultz-Hahn Post 293, Silver Lake.
According to members of the women's auxiliary, donating to the poppy drive is one way to show veterans and all military personnel that their time, sacrifice and patriotism are important and remembered. Donations for poppies are used exclusively for the needs of veterans and their families.
Wisconsin veteran facilities and programs benefiting from the Silver Lake drive include: Union Grove VA; Camp American Legion; Kenosha Outreach; Zablocki Veterans; Homeless Women Veteran Boudicca House; Milwaukee Fisher House, Milwaukee; scholarship funds for children of veterans and Honor Flight for veterans to fly to Washington D.C. to see the World War II Memorial.
Those who are aware of a veteran in need are encouraged to mention their concern to one of the volunteers on Poppy Days. An American Legion member may be their link for assistance.