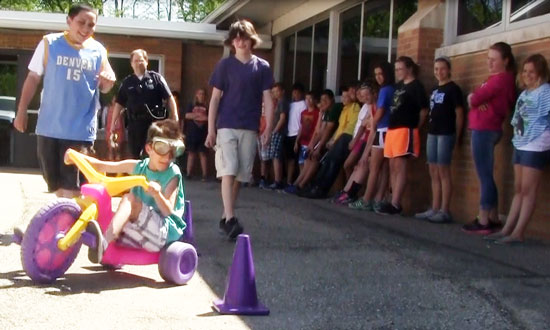 Lakewood School sixth graders wrapped up their Drug Safety unit on Wednesday with an exercise designed to open their eyes to the effects of alcohol abuse.
Twin Lakes Police Officer Bob Santelli, using a special pair of glasses that mimic an alcohol impaired state, showed students just how much their physical movements can be effected by being drunk.
Santelli explained what an officer would do to field test a suspected drunk driver. Then volunteers from among the students tried to do the field test wearing the goggles after a dizzying spin by two classmates. Here's some video of one student's attempt:

The students then moved outside and tried to negotiate a slalom course on a tricycle while wearing the goggles.
Afterwards, Santelli summarized some of the key points of drug safety as covered by the course and answered some last questions. Here's some more video:

Santelli said that teaching students is his favorite part of his job, and one he has been doing at Lakewood and Randall School for 17 years.
Here are some more photos: