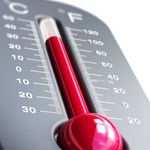 Remember that frost from Monday morning? Well forget about it!
Today's high temperature is expected to be anything but frosty at a downright balmy 85, says the National Weather Service.
Wednesday's high is also expected to top 80 degrees. After that, tempos are expected to moderate a bit to the 70s for the balance of the week. A chance of a thunderstorm start to come back into the forecast on Friday, so get the lawn cut before then.