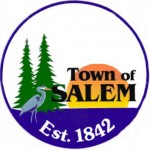 The Salem Town Board is scheduled to discuss and possibly act on two prominent issues at its regular monthly meeting this Monday.
The agenda for the meeting includes items for "discussion and possible action relative to Village of Silver Lake Emergency Medical Services" and "discussion and possible action on the ICMA proposal for the fire study."
The Silver Lake Village Board approved a contract in March that calls for Salem Fire/Rescue to provide EMS service to Silver Lake. But when the contract was last considered by the Salem Town Board in April, some supervisors said they had questions about the arrangement and action was delayed. Meanwhile, the Silver Lake Village Board last week agreed to contract with Silver Lake Rescue Squad Inc. for another 60 days with a 30-day extension beyond that if needed.
The last publicly discussed draft agreement between Salem and Silver Lake calls for Silver Lake residents to be billed as non-residents for services when they are transported to a hospital as part of a medical call. If Salem Fire/Rescue responds and does not transport a patient, the village will be billed $100, said Patrick Casey, Salem town administrator. That point was not well understood among the public as Silver Lake officials supporting the contract with Salem have repeatedly said at public meetings that there would be no charge to the village for EMS other than what patients were billed.
The ICMA fire study refers to an initiative that Bristol started. Bristol officials are proposing that local municipalities pool resources for a study to examine how they might better use fire department resources. The study could examine a formal consolidation of departments, or perhaps just more sharing of expertise and equipment.
Officials from Bristol, Paris, Salem, Silver Lake, Somers and Randall attended an initial meeting with consultants from International City/County Management Association, who would conduct the study.
So far, the Wheatland Town Board said they are not interested in pursuing the study. Silver Lake Village Board said they were lukewarn to participating too — unless Salem — the largest Western Kenosha County municipality and a Silver Lake neighbor — participates.
The current proposed cost for the study would be $1 per capita for the participating municipalities.