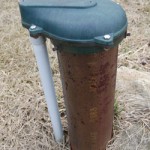 Note: This post has been brought back up to teh top due to new, corrected info. — DH
The Kenosha County Division of Health has made the following announcement regarding a deadline for water testing:
The Kenosha County Division of Health is urging any residents that received free well water testing kits due to the recent flooding to submit them by May 7 . The Division of Health will no longer receive these kits after this date. Water testing kits can be dropped off at the Kenosha County Division of Health's two locations: Kenosha County Job Center, 8600 Sheridan Road, Kenosha, from 8 a.m. to 5 p.m., Monday through Friday; and Kenosha County Center, 19600 75th Street, Bristol Tuesdays, from 8am-noon and 1-3pm. (Note: The county center hours are corrected per Luke Godshall from the county land planning department. Our original info was from the  health department. We apologize for the error and any confusion it may have caused. — DH) For further information about health and safety hazards related to flooding and recommendations for clean-up, please contact the Kenosha County Division of Health at 605-6700 or visit the website at www.kenoshacounty.org.