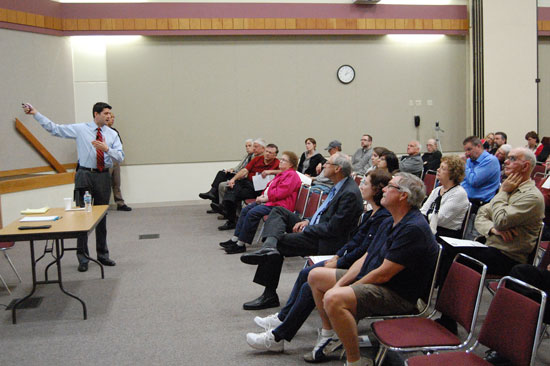 U.S.. Rep. Paul Ryan held a constituent listening session at the Kenosha County Center in Bristol Thursday afternoon.
I counted about 70 people in attendance when Ryan entered the room. A few more entered later.
Security seemed higher than similar events in the recent past in Western Kenosha County. At least eight on-duty sheriff's deputies were present.
As is his custom, Ryan gave an initial presentation — complete with PowerPoint slides — and then took questions from the audience.
Here is video of the portion of his initial remarks that focused on the federal budget, taxes and economic growth:
Here is video from the section of Ryan's opening remarks where he addressed immigration:
Note: I also have video from questions from the audience that I intend to post as well. Check back later. — DH