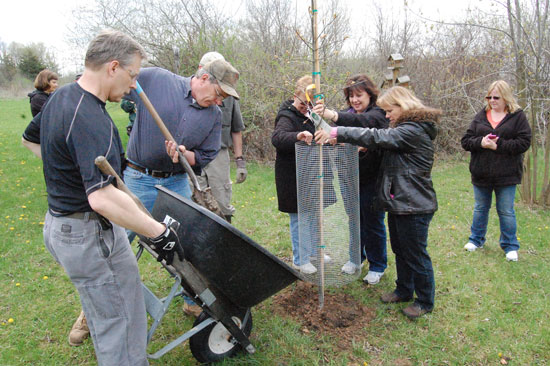 Volunteers from Catholic Financial Life fraternal organization, the Freinds of Richard Bong State Recreation Center and family members of the honorees planted three trees at the accessible camping cabin at the park — known as the Kcabin — on Saturday.
The three trees were planted in honor of:
David Schultz, of Paris who was the driving force behind the cabin project and a member of the Westosha Kiwanis Club. He died in 2010.
Janice Schultz, David's mother, who also played a role in the cabin project.
Tom Paddock, an active member of the Kiwanis Club, who died in January.
A red oak was planted in David Schultz's memory. A pin oak was planted in Janice Schultz's memory. A swamp oak was planted in Tom Paddock's.
The planting project was part of Catholic Financial Life's participation in Join Hands Day, a national event sponsored by the American Fraternal Alliance.
The Kcabin came about after Schultz, whose youngest son uses a wheelchair, had camped at similar cabin at other Wisconsin State Parks. He decided Bong needed a similar facility. Schultz felt he would need some organizational support to pull off such a project, and he found it in the Westosha Salem Kiwanis Club. He joined the club and was made president on the same day and set off immediately on making the cabin happen. He also brought in fraternal organizations such as Catholic Knights (now Catholic Financial Life) to help raise funds.
Here is some video from the planting ceremony, in which Catholic Financial Life representative Karen Stiles explains the project and volunteers literally dig in:
Here are some more photos from the day: