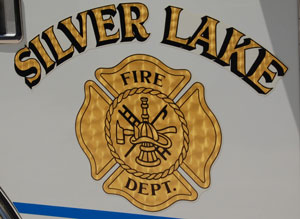 The Silver Lake Fire Department needs to replace all of its breathing equipment that firefighters wear when inside burning buildings, Chief Andrew McFarlane told the Silver Lake Village Board Wednesday evening.
The bottles that hold the air for the current equipment can no longer be re-certified the department recently learned, McFarlane said. The equipment was purchased in 1998, after a  fire that destroyed the fire station and most of its contents.
McFarlane has received bids for $84,000 and $134,000 to replace the equipment. McFarlane said he favored the lower bid because it also would include enough additional air bottles for the department's needs.
"I know, it's a shock," McFarlane said.
Village Board members quickly acknowledged there was no money readily available for such a large purchase.
"There's really no money in the budget to do this," said Trustee David Snow, a former lieutenant on the village fire department. "But the thing is this basically shuts down our fire department."
McFarlane, who became chief last summer, said in the short term the equipment is still usable, but he is not willing to risk continuing to use it when it cannot be re-certified.
Board members discussed funding the purchase through a loan. If a loan is pursued, there was discussion of including the cost of the planned addition of living quarters to the fire station. The quarters are needed to house out-of-town firefighters who may begin staffing the station. The living quarters project budget is $50,000, McFarlane said.
The board did not act on the matter because policy calls for a purchase of this amount to have three bids. McFarlane said he expected a third bid to be available very soon.
Snow said the air packs issue is another example of the lack of long-term planning regarding the department.
"We've got to start putting together long-term plans," Snow said.