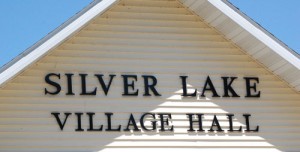 The Silver Lake Village Board agreed Wednesday to seek bids for a revaluation of all property in the village.
A revaluation has not been done in the village for six years, Trustee Barbara Ironside said. That means village property values are likely higher than neighboring municipalities as Silver Lake's values were last set before the real estate market downturn.
"We owe it to the community big time," Ironside said.
The urgency for a village wide revaluation was also addressed by resident Eric Ericksen during citizens comments. He stressed that the current situation means that village residents pay a higher portion of costs for shared services such as the Wilmot High School District.
"Every service we pay for outside of our community we pull a larger wagon," Ericksen said.
The revaluation could not be done until 2014, since the open book and board of review process are already underway, Ironside said.
Ironside said she did not know what a revaluation would cost. After the bids are received, that cost could be worked into the 2014 budget, village President Sue Gerber pointed out.