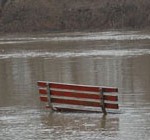 The Fox River at the New Munster gauge is down to 11.58 feet as of the 1:45 observation today.
With the right weather, the river is forecast to be below flood stage of 10 feet by Saturday.
But about that weather. There is some chance of rain in the forecast for every day this week. The strongest chances are tonight at 50 percent, Thursday and Thursday night with 50 percent and Friday with 60 percent.
Temperatures are forecast to be at their warmest early in the week and then drop off some. Highs are forecast at 71 today, 80 Tuesday, 76 Wednesday, 53 Thursday and 55 Friday.